Bios
Meet the individuals who have dedicated their lives to Functional Neurology, while sharing in the stories of two people that have been changed forever by the everyday miracles found in its promise.
Christa Hubbard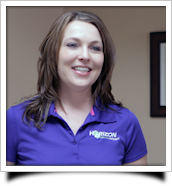 Christa Hubbard is a mother, wife and a vibrant, young chiropractor whose roots are planted deep within Michigan's Upper Peninsula. Surrounded by lakes and rolling hills, she grew up taking advantage of the diverse terrain around her as a skier on both land and water, which inevitably led her to competitions and the winning of those same competitions. As a result, Christa has always taken great pride in her own athletic abilities and that of her family's. All of this came crashing down around her when Christa was diagnosed with Dystonia in 2009, a disease where muscle contractions cause painful twisting and abnormal postures on her left side. Christa has recently won the fight with Dystonia through Functional Neurology and is now enjoying time with her family back on the slopes.
MacKenzie Maher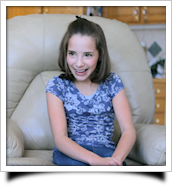 Mackenzie Maher is a young girl born with a paralytic disorder known as Cerebral Palsy. Luckily, for her she was not only born into a very loving and supportive family, but an inventive one to boot, making it possible for her to persevere through her various trials. Functional Neurology, coupled with her individualized therapy, has allowed McKenzie to make wonderful progress beyond the typically debilitating limitations of Cerebral Palsy.
She is able to enjoy her favorite things on a daily basis with much less difficulty, which includes spending time with her sister (who just happens to be her role model) and reading countless books. A new era has begun in McKenzie's life and the horizon is bright with countless possibilities and miracles to come.
Prof Dr Frederick Robert Carrick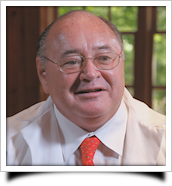 Dr Carrick is a Professor Emeritus of Neurology at Parker College and Distinguished Post Graduate Professor of Clinical Neurology, Logan College. He has had an International specialty practice in functional neurology for 33 years and has attended patients by referral throughout the globe.
He is a noted clinician, educator and researcher with special interests in the treatment of coma and movement disorders. Prof Carrick holds Board Certification and Fellowship Certification in many neurological disciplines and has a PhD specialty degree in brain based learning. He has received many honors and recognition from government and Society. These applications have become global and affected the treatment of humankind in all corners of the world.
Dr Carrick currently oversees the Carrick Institute and a faculty of world class scientists and clinical researchers in Biomedical Engineering and Rehabilitation, Experimental Psychology and Adult and Developmental Neuropsychology, Ergonomics and Human Factors, Cognitive Neuroscience, Linguistics, Developmental Neuroscience and research.
Sergio F. Azzolino, D.C., D.A.C.N.B., D.A.A.P.M., Q.M.E.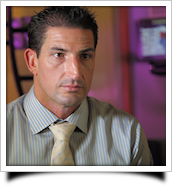 Sergio obtained his Doctor of Chiropractic degree from Life Chiropractic College West in 1995 where he graduated Salutatorian and Summa Cum Laude and received the Clinic Excellence Award for his graduating class.
Sergio completed a 3-year postdoctoral neurology course through Logan Chiropractic College and successfully passed examinations leading to the certification of Diplomate of the American Chiropractic Neurology Board. He also holds Board Certification/ Diplomate Status in Pain Management through the American Academy of Pain Management. He has also completed advanced studies in the diagnosis and treatment of vestibular disorders, learning disabilities and behavioral disorders from the Carrick Institute for Postdoctoral Education and has expanded Azzolino Chiropractic Neurology Group to assist in the non-pharmaceutical treatment of vertigo and balance disorders in all age groups and children with ADHD, Autistic Spectrum Disorders, and Learning disabilities. In 1997, Dr. Azzolino received the prestigious appointment of being 1 of 5 internationally appointed examiners to the American Chiropractic Neurology Board, which he currently serves as the Vice President. He has also recently been appointed as a Board Member of the American College of Functional Neurology.
He was voted the Chiropractic Neurologist of the Year in 1999 by the American Chiropractic Association Council on Neurology.
He currently is the director of Azzolino Chiropractic Neurology Group and full-time clinician specializing in the diagnosis, treatment, and rehabilitation of various neurological and musculoskeletal disorders. He has worked with numerous professional and amateur athletes in their quest to maximize their neuromusculoskeletal system and assisted in their recover from injuries.
Glen Zielinski, DC, DACNB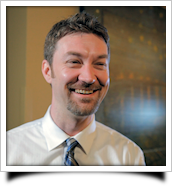 Glen Zielinski, DC, DACNB, earned his Doctor of Chiropractic degree from Parker College of Chiropractic. He graduated Suma Cum Laude and as a valedictorian of his class. He earned a Bachelor of Science degree in anatomy. He has received numerous awards, including the Board of Trustees Award for Excellence in Diagnosis. He also received the CARE scholarship, the largest international award in the chiropractic profession.
He currently practices in Lake Oswego, located just outside of Portland, Oregon. He focuses on improving the lives of patients with disabling neurological disorders using functional methodologies. Many of his patients commute from throughout the continent to receive his care. His practice focuses on neurodegenerative and neuroimmunological disorders, as well as disorders of movement, balance, and neurodevelopment.
Dr. Zielinski is an assistant professor of clinical neurology with the Carrick Institute for Graduate Studies. He became a faculty member in 2003, and lectures regularly on functional neurology throughout the United States, Canada, and Europe.
He continues to pursue his studies in functional neurology and is awaiting board certification in treatment of vestibular and child developmental disorders. He is also currently collecting data for his thesis for the master of neurological sciences degree from the Carrick Institute.
Dr. Robert J. Melillo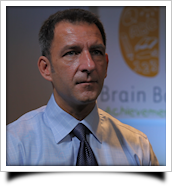 Dr. Robert J. Melillo, an internationally known chiropractic neurologist, has been in private practice for 17 years. For most of that time, he has been a postgraduate professor of neurology and rehabilitation. Dr. Melillo has devoted the later half of his career to the study of learning disabilities and behavioral disorders in both children and adults. He has searched to find the cause of childhood disorders like ADD , ADHD, Dyslexia, Obsessive compulsive disorder,Tourettes syndrome,and autism to name a few . He also has researched depression and anxiety disorders in both children and adults.
Credits include: – Former chairman of the American Board of Chiropractic Neurology. – Post graduate course coordinator and developer of Northwestern Chiropractic Colleges Rehabilitation diplomat program. – Currently a board member of the Ascent School (for Autistic children)
Research findings: What Dr. Melillo's research has found is that most childhood and adult cognitive and behavioral problems are a result of an electrical imbalance in the brain. This imbalance can be produced by a lack of stimulation or a skeletal or muscular imbalance of the body. These imbalances result in the brain focusing on using the more active side and ignoring the under-stimulated hemisphere. Therefore information is processed consciously and subconsciously by only one hemisphere instead of two, and the result is abnormal behavior and/or emotions or other physical symptoms of illness.
Dr Melillo has devised a unique approach to improving these symptoms known as The Unlimited Potential Program utilizing specific forms of physical activity coupled with sensory stimulation (such as specifics types of music, light, smells, etc.), cognitive therapy and nutrition. This is all done with specific attention to balancing an individual's brain activity between the right and left hemispheres.
Dr. Melillo has completed his first textbook which is a compilation of his research and clinical results. He has also been working on a book for parents to explain his findings and treatment. He has done seminars all over the United States and in Europe. Dr. Melillo also maintains an extremely active practice in a state of the art Health Care Facility on Long Island.
Dr. Lynn Carlson
Dr. Lynn Carlson is a Board Certified Chiropractic Neurologist and a Fellow of the American College of Functional Neurology. She has completed post-doctoral specialty training in Functional Endocrinology, as well as, Vestibular Rehabilitation.
Dr. Carlson has15 yeas of experience in private practice and has served on the faculty of Life Chiropractic College West where she taught in the Diagnosis Department. Currently, she is on faculty of the Carrick Institute of Graduate Studies as an Associate Professor of Neurology. She lectures regularly around the United States and Canada.
In pursuit of her commitment to serve children with developmental challenges and neurobehavioral disorders, Dr. Carlson relocated from California to Massachusetts where she presently serves as Executive Director of the Brain Balance Achievement Center of West Springfield.